Mini Music Festival at Karmana Thu 18 July
July 18 @ 7:00 am

-

11:00 pm

£50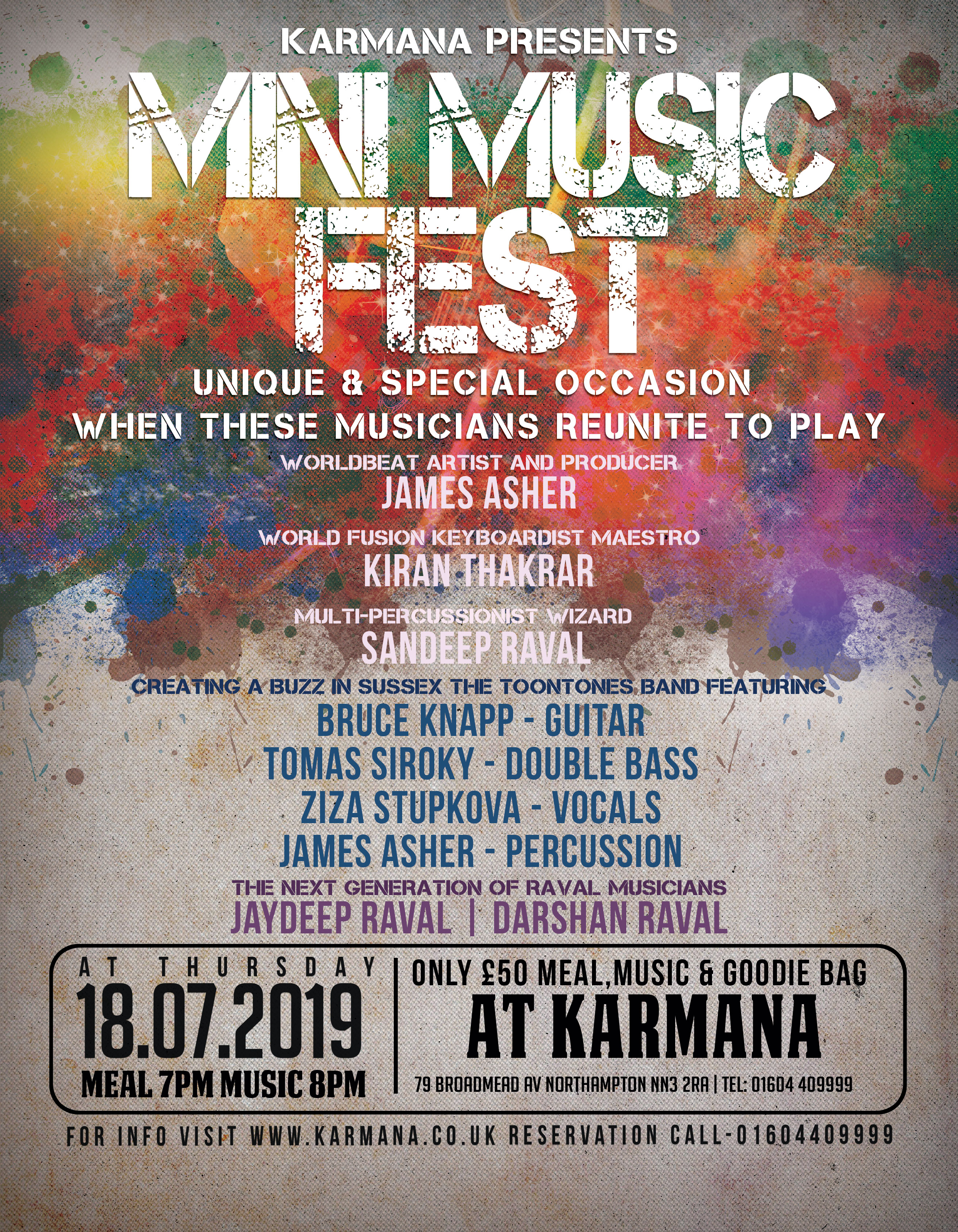 Mini Music Festival at Karmana – July 18th, 2019
Enjoy the unique and special occasion when these musicians reunite to play: –
Worldbeat Artist and producer James Asher – keyboards/percussion
World fusion keyboardist maestro – Kiran Thakrar
Multi-percussionist wizard Sandeep Raval –
The next generation of Raval musicians –
Jaydeep Raval  – guitar
Darshan Raval – keyboards and percussion
Creating a buzz in Sussex the Toontones band featuring: –
Bruce Knapp – guitar
Tomas Siroky – Double Bass
Ziza Stupkova – Vocals
James Asher – percussion
All of the above 8 musicians together in varying permutations
Secure a ticket in advance for this special performance,
and on purchasing receive a 7 CD goodie bag containing: –
Drum Travel – James Asher/Sandeep Raval(double CD)
Drum Distillery – James Asher/Arthur Hull
Drums on Fire – James Asher/Sivamani
Shaman Drums – James Asher
Mosaic in Motion – Sandeep Raval
Nadopasna – Sandeep Raval – Worship through Sound
The ticket for the above Music Performance, Goodie Bag
also contains a special celebration Three Course Meal.
All three items come at a prepayable (cashprice) of £50 at Karmana.
The goodie bag will be available at the time of purchase
The meal and peformance will happen on July 18th July; –
Meal 7.00 PM
Music from 8.00 PM
very limited number of seats so please book early 🙂
Tickets are not available as this event has passed.
TERMS & CONDITIONS: Gift voucher & Event Tickets: Vouchers and Event Tickets are non-refundable and cannot be returned for a cash refund. Vouchers can be used for full or part payment, no change will be issued for any unused amount. No cash alternative is available. Vouchers/Tickets must be kept safe and Voucher/Tickets numbers should not be shared with or given to third parties. Karmana not liable for misuse of Vouchers/Tickets and will accept Vouchers/Tickets as payment from whoever is able to quote the unique Voucher/Tickets number without further proof of purchase. Vouchers expire details on relevent page. Events Ticket do not include food or drinks unless otherwise stated on event page, this tickets are contribution for live music only.Tickets cannot be exchanged, or refunded once purchased. If the event is cancel or postponed, we will inform you and offer you a choice of refund or exchange to other event or voucher. Attendees consent to the photography, filming/sound recording as members of the audience, which may be used for promotional or commercial activities. Click here for full T & C.